Latin Restaurant
7 Bush Ave. Newburgh


Mix and Match
All Day Specials: $10 – $12
(samples)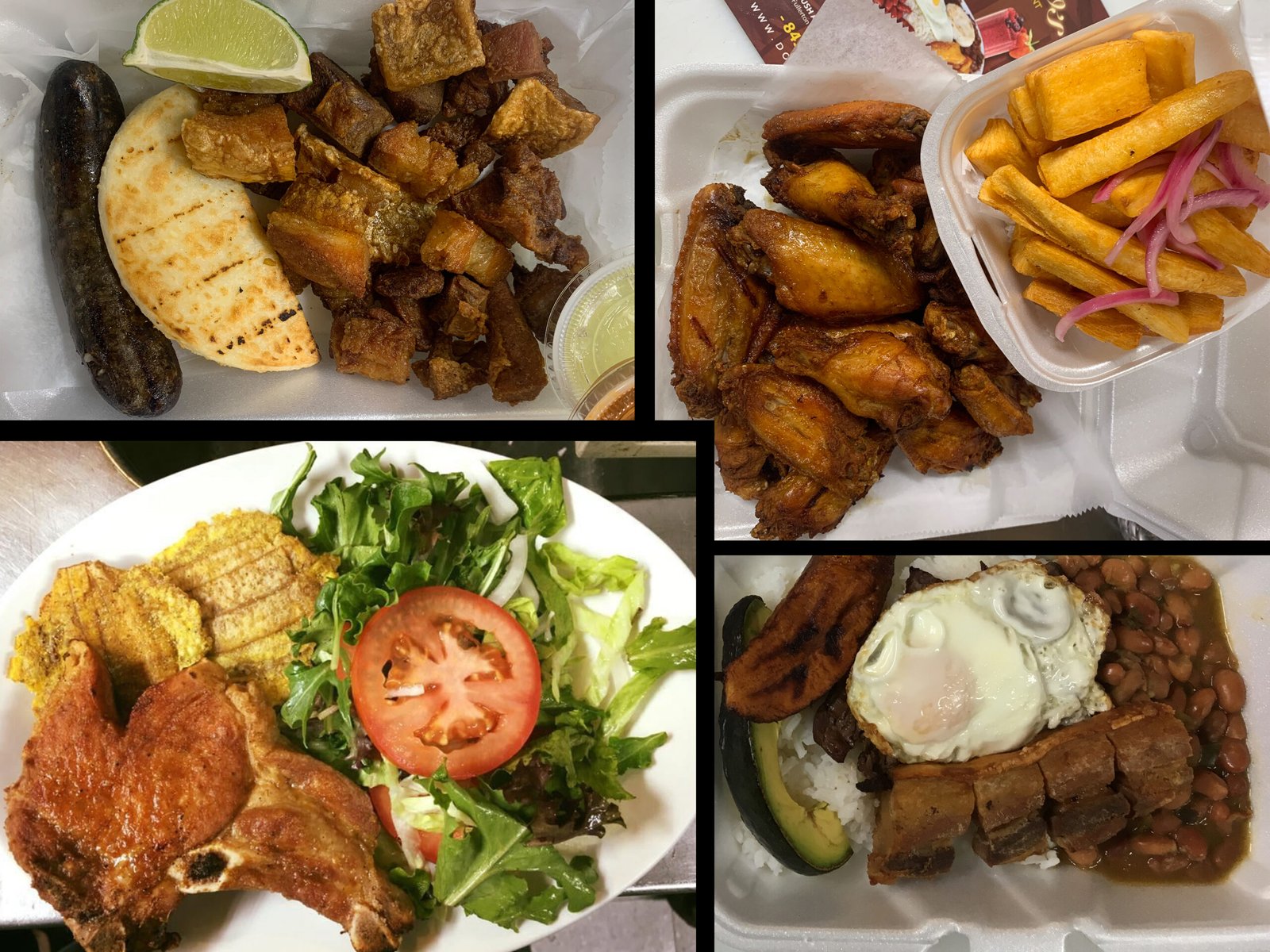 Pick 1:
Chicharron
Grilled Chicken
1 Porkchop
Small Grilled Steak
Pick 1:
Yellow rice (Arroz con Gandules)
White Rice
Salad
Pick 1:
Yuca Frita
Sweet Plantain
2 Tostones
*Extras $2.00
*Ask for our:
Pernil Special $12
Mini Paisa $13
Steak and fries $12
Grilled chicken and fries $10
Chicken wings and Fries $10
Bandeja "Paisa" - $18
Hold The Meats! - $14
Sauteed red and white onions, red and green peppers, garlic, tomatoes. Served with a choice of yellow rice with gandules or white rice, Sweet plantain or tostones, beans or salad and avocado.
Grilled Steak - Carne asada - $15
Grilled steak, yellow rice, beans, plantain and avocado (Carne asada acompañada de arroz con gandules, frijoles, maduro y aguacate)
Grilled Steak or Chicken in Creole Sauce - $17
Grilled Steak Creole: Red and green peppers, cilantro, tomatoes, garlic served with yellow rice, beans, plantain and avocado. (Carne Asada en Salsa Criolla: Pimentones verdes y rojos, cilantro, tomates, ajo, acompañada de arroz con gandules, maduro y aguacate)
Lomo Salteado - $17
Steak or grilled chicken with onions and peppers - $17
Grilled Chicken Salad - $15
½ Chicken Dinner - $15
Grilled Chicken Sandwich - $8 -with fries $10
Pernil Con Todo - $16
Porkchop Dinner (1) - $16 (extra porkchop +$2)
Breaded Chicken (Pollo empanizado) - $18
Salmon in Creole Sauce - $18
Sides
Maduro $5
Yuca Frita $5
Arepa y Chorizo $6
Tostones $5
Empanadas $1.25 (beef or chicken)
Platano con Carne $8
Chicharron $5
Don Hugo Fries small $3
large $5.50
Alcapurria $3
Arepa de choclo con queso $3.00
Ensalada con aguacate $7
Soups:
(ask for 1 of our 3 specialty soups)
1- Mondongo (tripe soup) Cow tripe, carrots, peas, potato, pork bits, and chorizo bits. Delicious hearty meaty soup. (tripa de la vaca, arbejas, papa, pedazos de cerdo y chorizo)
2 – Chicken Soup (Sopa de Pollo) Chicken all meat of the bone, potato and "guasca" leaves (Pollo, papa, y hojas de guasca)
3- Beef Soup – all-beef, potato, cassava (res, papa, yuca)
Kids
:
Chicken wings and French Fries – $11
fried seasoned and finished on the grill with crispy fries
Grilled Chicken Salad and Fries – $11
fillet grilled seasoned white meat, lettuce, tomato onions, and crunchy Don Hugo fries
Also:
Platano con Carne- $10
(Sweet Plantain with ground beef, veggies, and corn)
½ chicken tostones- $11
( ½ baked chicken with green plantain)
Chicharron y Maduro- $10
(Pork bits with sweet plantain)
Chicken wings and Don Hugo's Fries – $10
Hugos Jugos:
Maracuya (Passion Fruit)
Mora (Black Berry)
Guanabana (Sour Sop)
Mango
Ask for: Papaya or Lulo
Milk(leche) $6 Water(agua) $5
Cholados $6.50